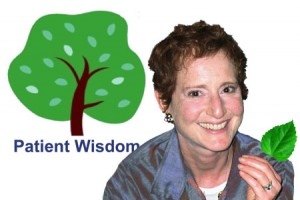 Last week was the third anniversary of the death of my lifelong friend, Judy Feder. In 2001, Judy was diagnosed with Stage IV breast cancer at the age of 45.
I was involved in a health internet start-up at the time and knew about Gilles Frydman's pioneering work in creating a collection of online patient communities called the Association of Cancer Online Resources (ACOR). Judy joined the group for patients with metastatic breast cancer. She embraced online communications (perhaps at least in part because she was a public relations professional) and participated in a second breast cancer online community called BC Mets as well. You can read about her 8-year breast cancer journey in this article in the Journal of Participatory Medicine, the journal of the Society for Participatory Medicine of which she was a founding member.
In the article she writes about her experiences in online communities:
I continue to be amazed at the sheer volume of questions about Xeloda [a breast cancer drug], and the variety of ways it is being prescribed. I'm also struck by how much great information is buried – too often just beyond our fingertips – in the unassuming but rich archives…I'm fascinated that my fellow patients and I clearly believe we will find the best answers by asking our peers online.
Judy believed that she lived longer by being an e-patient – someone who is empowered, engaged, equipped and enabled. In fact, she chronicled one particular time she got concrete, lifesaving clinical management recommendations from her online breast cancer "sisters" in this blog post. In it she writes:
Today, however, I can tell you that I love my e-community because I would not be alive without it. No joke…Not only am I alive and healing because of the wisdom of my fellow patients…, but I've opened up a new avenue for other women with BC mets in my doctor's practice (and, with e-patient power, well beyond, I hope).
Judy was quietly persuasive and determined to use online communities to improve healthcare. She collaborated with academic researchers to perform studies about the value of online communities in chronic diseases and presented her findings at international conferences. Her dream was to harness the "wisdom of patients" in specially designed patient communities that also provided information, support, access to clinical trial information and more.

It is fitting that the anniversary of Judy's death should coincide with the launch of Smart Patients, a patient community platform founded by Gilles Frydman (the founder of ACOR) and Roni Zeiger, the former Chief Health Strategist at Google. The site, which is devoted to cancer patients, launched publicly on April 18 after a preview at the TEDMED 2013 conference in Washington, DC and is meant to provide a forum for cancer patients to:
…learn from each other about treatments, search for clinical trials and the latest science regarding their diagnoses, and share best practices from the patient's perspective.
The site is free to cancer patients and has no advertising. They plan to perform occasional surveys and share anonymous information generated from patients with paying healthcare organizations. These organizations will use the information to provide better care and design clinical trials that meet the needs of patients.
Not only will patients be helping each other, but they will also be generating a new type of evidence that can help improve the quality of care.
Judy would be very pleased.