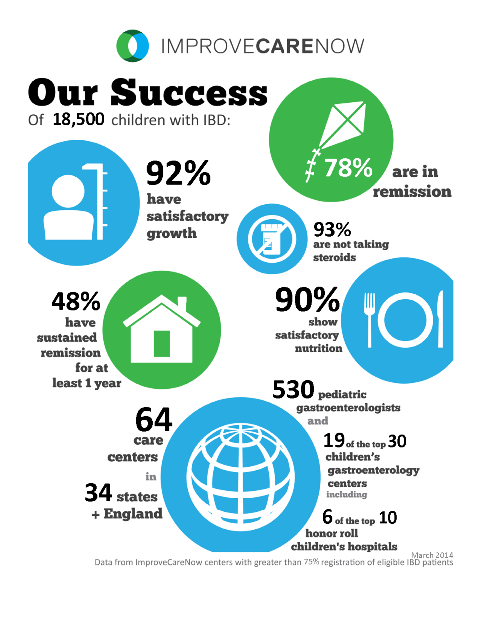 Imagine a group of medical centers that share ideas and borrow from each other in order to improve the quality of the care they deliver. Imagine care teams where doctors, nurses, nutritionists, other health professionals and researchers work side by side with pediatric patients and their parents to figure out the best ways to deliver care. Imagine a healthcare conference where patients and parents are the teachers with doctors listening attentively and asking questions.
I just returned from the ImproveCareNow Spring Learning Session where I saw all of this firsthand. ImproveCareNow (ICN) is a network of 64 (65 as of yesterday) care centers whose mission is to
"Transform the health, care and costs for all children and adolescents with Crohn's disease and ulcerative colitis by building a sustainable collaborative chronic care network, enabling patients, families, clinicians and researchers to work together in a learning health care system to accelerate innovation, discovery and the application of new knowledge."
There are over 18,000 patients in the network cared for by over 530 pediatric gastroenterologists. Representatives from each care center (from 34 states in the US and one center in the UK) come together twice a year to meet face-to-face and to learn from each other about the best ways to improve the quality of care for children with Crohn's disease and ulcerative colitis (known together as inflammatory bowel disease or IBD).
During the rest of the year, the care teams interact with each other on scheduled webinars and through emails. They also post quality improvement tools to an online platform developed specifically for this purpose. Care centers are encouraged to "share seamlessly and steal shamelessly". So one care center might post a booklet they created for parents of kids just diagnosed with IBD. People from other care centers download the booklet and edit it to meet their own needs. The goal of the network is to adapt what other people have already created rather than starting from scratch. Care centers also collect data on their patients which is pooled together into a registry for research and analysis to see how patients are doing.
Here are just a few of the amazing things I saw at the conference:
all care centers were strongly encouraged to bring parent representatives to the Learning Session and 25 of them did so
the opening and closing sessions included talks by patients and parents in addition to the clinicians and researchers
one of the first sessions was a panel discussion organized by parents that was designed to provide practical advice for care centers on how to integrate parents into their quality improvement work
parents and patients participated in all of the scientific sessions and worked side by side with members of their care centers on team-focused activities
during an informal breakfast where people interested in research sat together, a parent asked why she couldn't use the registry data to find out what the collective experience of other patients was on a particular drug; this led to an on-the-spot plan to get her the data she requested and to develop a way to make this sort of query available to other parents
there was an interactive session specifically for parents designed to develop a way to generate research questions that are most important to patients and their families
It really is possible for patients, parents, clinicians and researchers to work together as a team. It is already happening.