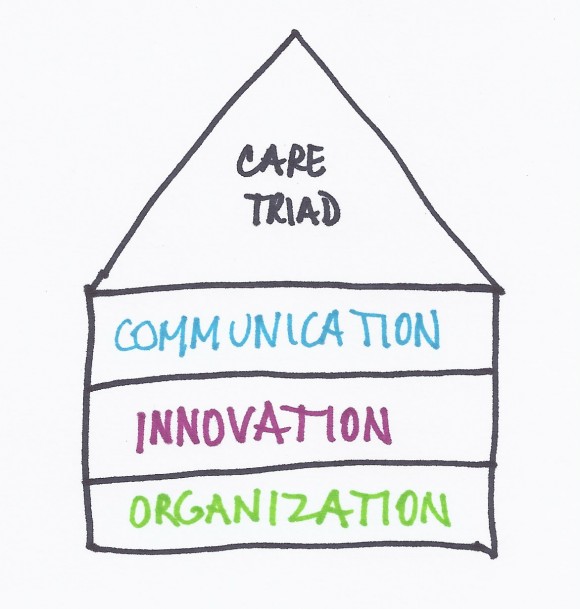 The Care Triad doesn't really work without three important foundations – communication, innovation and organization.
Communication requires that all members of the healthcare team understand that the patient is the most important person on the team. Patients should be spoken to in a respectful way starting with the person who sits at the welcome desk. Doctors need to learn to translate complicated medical information into ways that patients can understand it and patients need to learn to ask questions when they don't understand what the doctor is saying. Doctors (and other members of the healthcare team), patients and family members also need to learn to talk openly about the end of life. Patients may also find it helpful to communicate with each other in online communities. Both doctors and patients need to learn to use social media to help themselves and each other, recognizing the power of personal experiences.
Innovation involves designing and using new technology to improve care such as sensors on the body to measure blood pressure, heart rate, blood sugar, etc. It also includes developing new genetic techniques to create medicines to target specific diseases in individual patients. But most of all, it involves innovative thinking – being open to ways of doing things that are different from the usual. It might mean rethinking medical education or questioning the need for an annual physical exam. Or just being openminded about the way the care is delivered – maybe it doesn't have to take place in a face-to-face way or involve the presence of a doctor at all times.
Organization is about applying some business rigor to healthcare and learning from the best practices in other industries. There is a lot that medicine can learn from the aviation industry about safety (such as the value of checklists and teamwork) or from artists about how to design care. Management techniques that work can be borrowed from Japanese manufacturing, particularly the Toyota Production System (TPS).
Communication, innovation and organization have lots of overlap with each other but together they can enhance the relationships between doctors and patients and help get the evidence about what treatments work best to the people who need it.
Here's an example of how it can all come together. Let's say a patient, Mary, has longstanding diabetes. When she comes to the doctor's office she is greeted by the friendly staff and taken directly in the examining room (the practice has studied the processes in the office and found ways to eliminate waiting). Mary tells the doctor about the round-the-clock readings of her blood sugar that she gets from a tiny needle inserted into her finger. She reports that she has been exercising more and eating better but her blood sugar readings seem to be higher. Rather than telling her this doesn't make sense, her doctor asks her lots of questions about what else might be going on to influence her blood sugars. They come up with a shared plan about next steps that includes ongoing interactions by secure email.
This type of care is really happening in pockets around across the country. It is not an unattainable dream.